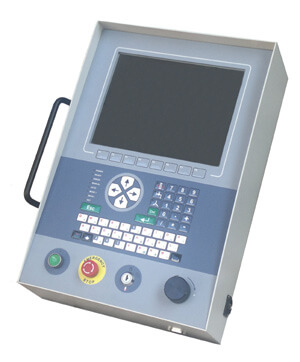 Specially designed for CNC routers, Milling, Plasma Cutting, Water Jet cutting, Oxycut and Lathe applications, the PMC CNC has a range of screen sizes and keypad layouts available to make programming a simple and efficient task.

Our MAP software can be programmed for many different types of machines, menus for calibration, IO setup and motion stability are all built in. Running G-Code can be as simple as programming one line of code! Click here to visit our MAP page to learn more.
Download G-code, save and recall job files, home offset, automatic tool change, jog wheel for setting workpiece origin position and spindle speed control are a few of the many features available.

Available in Landscape and Portrait cases to suit different machine styles, the CNC controller from TRM is so flexible you don't need to add on extra PLC modules or MMI screens simplifying wiring and build costs.
Contact us today to discuss your requirements and how we can work with you to give you that competitive edge!
The CNC controller and accessories are available from our online shop.
G-code interpreter
Load programs from pen drive
Real Time 3D Graphics
Home offset position
Range of keypads and displays
Jog wheel for manually moving to position

Spindle control
Automatic tool change
Latest technology
Quick to Program
Coolant Control
Assignable outputs for brakes or magnetic chucks/clamps
G-Code Screen

3rd party program

for generating G-code

Machining Example
Specifications Overview


Axis:

4 Servo axis and 4 stepper (maximum 4 axis running)

None Volatile Ram:
Programming:

MAP, G-Code, 'C', Custom apps.

High Speed RAM:
Jog Wheel Encoder Inputs:
Sample Period:
I/O:

16 Digital inputs

12 Power outputs


8 Digital outputs




4 Analogue inputs

2 Fast registration inputs

Ports:
Encoder Inputs:

4 Axis, quadrature inputs

(A, /A, B, /B, Z, /Z)

Microprocessor:
Encoder Registers:
Processing Speed:
Step Controllers:

4 fractional stepper controllers

(Step and direction)


Flash Memory:
Motion control:

Linear interpolation

Circular interpolation

Options:

Custom Keypad


I/O expansion

Screen options

---
Specifications in Detail
Controller Power Supply:
The controller is supplied from a single 24VDC source in most applications. It can run from 12V to 32V however higher voltages will be clamped as the controller has internal protection.
Command Outputs:
There are four +/-10V motion control outputs available for connections to AC or DC drives for CNC Control. These provide the command signals to position each axis accurately. Each axis can be setup as servo or stepper so that a mixture can be used where precision needs to be delivered at a price.
Stepper Signals:
It is also possible to control four Stepper motors instead of servo or AC motors via the Step and Direction signals provided for each axis. This type of motor whilst more cost effective has it's limitations and if precise movements are required Servo motors should be used. (also see TTL Outputs).
TTL Outputs:
If the stepper signals are not used, they can be configured as eight general purpose TTL (0-5V) outputs. Capable of driving LED's, the output power is limited but can be buffered and used to drive much greater loads.
Internal Jog Encoders:
For CNC applications, the PMC controller has provision for upto three low resolution encoder connections. These can be used as control dials for setting speed, adjusting position manually or altering values on screen by using our MAP software functions. Depending on the controller style chosen and order requirements, all, some or none of these may be fitted.
Inputs:
Sixteen opto-isolated inputs are available for connection to switchgear, Sensors, PLC's etc. Polarity is user selectable for PNP/NPN use in banks of 4 so it is possible to use a mixture of signalling methods.
Encoder Inputs:
We provide four encoder channels for use with servo motors. The signals available for each channel are A, B, /A, /B and Z. Settings available in MAP allow for the number of pulses to be programmed and if it is a rotary or linear type.
Outputs:
There are twelve 3 amp outputs that have current limiting built in to ensure no damage can be caused. Each bank of four outputs has a status signal that is fed back to the control software to enable an alarm should an error occur.
The output voltage can be selected by the installer as the VCC pin is available for external connection. Most installations have this linked to the supply pin however it allows other supplies to be used at a different voltage if required. Typically this is 24V however upto 36V can be used as a maximum with the lowest being 6V. The controller itself should be run from 12-24V as a standard.
A clamping diode is provided on each output to prevent energy spikes from inductive loads damaging the output device. These are only 1 amp devices with a 30 amp non-repetitive peak current which are suitable for most small relays etc. Contactors and larger inductive loads should always be suppressed at source with an appropriate device to prevent any noise transmission back to the controller.
Communications:
RS232 is fitted as standard along with RS485. CAN is currently an option though we plan to move our products onto this standard as a preference. Controllers can be connected to Computers, Printers and to other controllers as required to enable data to be uploaded or downloaded.
RS485 is a multidrop format and nodes need to be configured with a logical number. We provide for 256 address' which is usually more than enough as Custom modules can be manufactured if needed to provide for specific IO.
Memory:
The PMC controllers have the facility to expand the internal memory if required with the use of SD cards. Designed to be installed at production, controllers should be ordered with this option if required.
Keys:
Depending on the case design and software, controllers can come with many different keypad layouts. Products designed for specific basic tasks may only have a few keys for navigation and data entry.
Where files are to be stored a compact alpha numeric keypad may be used but where data entry and modification is to be used regularly every hour of each day we have different layouts of full QWERTY keypads designed for fast data entry.
Displays:
Controllers can come with many different display options depending on the size of machine, location and information to be displayed. Typically we have 5.7" and 10.4" displays as standard although custom designs have used 1" and 3.5" and other sizes are available. While monochrome used to be the standard, virtually all controllers now use colour displays. This is not only due to the low cost but also as colour messages can instruct or warn an operator more effectively.
Enclosures and Mounting:
Custom enclosures are available depending on quantity and can be designed in conjunction with the customer to fit the machine. Standard enclosures are available and are suitable for many machines without modification.
Panel, POD and Boom Arm are all different types of mounting that are available to suit a wide variety of machines, if you don't see an option suitable please contact us with the required details.
Connections:
Most controllers are fitted with three D type connectors. A 37 way for Power, Digital Inputs and Power Outputs. A 44 way for Stepper signals, command signals, encoders and Analogue. And a 15 way for Serial communications.
A USB type A connection is also provided for Pen drive use.
Analogue Inputs:
Four inputs are provided with a +10/-10V range that can be easily converted externally to different ranges e.g. 4-20ma or 0-2V. Internal capacitors are fitted at 47pf however these can be modified by special order to suit the application.
A typical application for the inputs is monitoring load cells. Values can be read in to the controller and either averaged or the Max and Min found to enable calculations to be performed and outputs be controlled as needed.
PLC Inputs:
Four extra PNP Inputs IP16:19 are provided where outputs OP16:19 are not used. If, however, the outputs are used the inputs can then be used to monitor the output state to determine if the output is actually on or has failed.
Amplifier Enable:
The transistor output of an opto-coupler is provided for connection to a drive enable circuit. When motion commands are used and the system is told to run, the Drive enable signal is activated to allow movement of the axis.
Real Time Clock:
Although in most applications the use of time and date is not required, there are some where data needs to be recorded or maintenance schedules met. A battery backed RTC is provided for this requirement. Laser trimmed, these devices are highly accurate and facilities are provided to allow the system manager to change the date and time according to their time zone and time of year.
Protective Window:
All our controllers use a 6mm hard coated window to resist scratches and provide strength to prevent damage to the LCD display that would otherwise be easily damaged. This is bonded in place to also provide a seal to prevent dirt and liquids entering the controller.
Overlay:
A polyester overlay is bonded to an Aluminium front plate of between 2mm and 3mm thick depending on the controller. This gives great strength and noise immunity whilst being readily changed to suit customers needs. An over can be customised with a company Logo, company colours or a complete re-design changing the key lettering too.
Software:
As our controllers run from TRM's own operating system, the customer can choose to create their own Bespoke software which will run on the controllers to allow control of a process or machine to suit the customers requirements. If something more "off the shelf" is required our powerful programming language MAP may be used:
MAP_CNC:
This is a programming language that we have developed over many years that is now extremely powerful and flexible; there are not many machines that cannot be controlled. The CNC version allows the creation and integration od G-Code programs.
All IO can be handled using this software along with completing basic and complex calculations. Values can be stored in any of the 256 registers that alone can be configured as Integer, Floating Point (values with a remainder or fraction), Signed Integer (32 bit), Unsigned Integer (32 bit).
Position of each axis can be controlled and set from direct values, calculated values, operator entered values or from values entered using the Jog dial input.